Connect with Christie
Show your support by completing as many activities as you can
Connect 4-in-a-row for a chance to win a VISA gift card!
$25 VISA gift card - 4 winners
$100 VISA gift card - 1 winner
Click gamecard to print and play at home or download and play from your phone!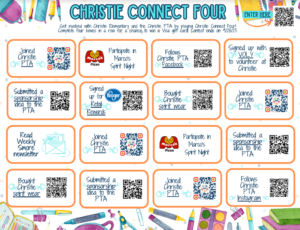 Click HERE after you've successfully CONNECTED 4-in-a-row to enter
All entries due by September 28, 2023.  Winners will be announced in the SMORE on Friday, September 29, 2023.
Questions or to submit a sponsorship idea:  contact@christiepta.org